"When they heard this, they became infuriated and wanted to put them to death."
The Apostles were so convicted by their experience of Jesus Christ, that they continued to tell his story even when those in power wanted to put them to death. Let that sink in for a moment. They wanted them put to death. And the Apostles did not stop. 
We live in a time when we are taught not to discuss religion and politics. We have witnessed people shamed and brought down for standing up for their convictions. It is a time of "political correctness" and "cancel culture". 
This hits home hard for me. It is hard for me to even write these words. I am ashamed to admit that there have been times in my life when I have not brought up my faith because I was afraid it would make for an uncomfortable dinner conversation. I have neglected to share the grace I have received, because I wasn't sure how the person would react, they might think I was weird or worse. I had a job once where I was cautioned to tuck in my crucifix because I was around people who didn't like Catholics and I complied. No one has threatened my life, but there have definitely been times when I didn't tell the story of Jesus Christ and the wonders he has worked. For that I am ashamed. 
A personal encounter with Jesus Christ has the ability to transform us. A personal encounter with Jesus Christ is able to take us outside of ourselves and move us into meaningful encounters with others. It is our mission to go out into the world and tell the story of Jesus Christ and his mercy. We are not to tell it once and then go back home, we are to tell the story over and over. More than that, we are to live the story. We are to live in such a way that mercy is our hallmark; where telling others how much they are loved is part of just who we are and how we operate. 
So I will take comfort from John's words in the Gospel. "He does not ration his gift of the Spirit." As I bend my will to conform more and more to God's will, I can trust that God will not ration his gift of the Spirit so that each day I can start anew and along with the Psalmist "bless the Lord at all times." Even when it feels uncomfortable. 
---
"Esta respuesta los exasperó y decidieron matarlos."
Los Apóstoles estaban tan convencidos por su experiencia de Jesucristo, que continuaron contando su historia incluso cuando aquellos en poder querían matarlos. Profundicen un momento en eso. Querían que los mataran. Y los Apóstoles no pararon.
Vivimos en una época en la que se nos enseña a no hablar de la religión y la política. Hemos sido testigos de personas avergonzadas y humilladas por defender sus convicciones. Es una época de "no ofender políticamente" y "una cultura de la cancelación".
Esto es muy duro para mí. Es difícil para mí incluso escribir estas palabras. Me avergüenza admitir que ha habido momentos en mi vida en los que no mencioné mi fe porque tenía miedo de que se convirtiera en una conversación incómoda durante la cena. Me he negado a compartir la gracia que he recibido, porque no estaba seguro de cómo reaccionaría la persona, de que podrían pensar que era rara o algo peor. Una vez tuve un trabajo donde me advirtieron que me metiera el crucifijo dentro de la blusa porque estaba rodeado de personas que no les gustaban a los católicos, y lo hice. Nadie ha amenazado mi vida, pero definitivamente ha habido momentos en los que no conté la historia de Jesucristo y las maravillas que ha obrado. Por eso estoy avergonzada.
Un encuentro personal con Jesucristo tiene la capacidad de transformarnos. Un encuentro personal con Jesucristo es capaz de sacarnos de nosotros mismos y llevarnos a encuentros significativos con los demás. Es nuestra misión salir al mundo y contar la historia de Jesucristo y su misericordia. No debemos contarlo una vez y luego volver a casa, debemos contar la historia una y otra vez. Más que eso, debemos vivir la historia. Debemos vivir de tal manera que la misericordia sea nuestro sello distintivo; donde decirles a los demás cuánto los amamos es parte de quiénes somos y cómo operamos.
Así que me consolaré con las palabras de Juan en el Evangelio. "Dios le ha concedido sin medida su Espíritu.". Mientras dejo que mi voluntad se conforme cada vez más a la voluntad de Dios, puedo confiar en que Dios no racionará su don del Espíritu para que cada día pueda comenzar de nuevo y junto con el salmista "Bendeciré al Señor a todas horas". Incluso cuando se siente incómodo.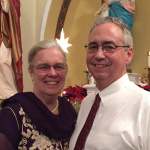 Sheryl is happy to be the number 1 cheerleader and supporter for her husband, Tom who is a candidate for the Permanent Diaconate in the Diocese of Kalamazoo. They are so grateful for the opportunity to grow together in this process. Sheryl's day job is serving her community as the principal for St. Therese Catholic School in Wayland, Michigan. Since every time she thinks she gets life all figured out, she realizes just how far she has to go, St. Rita of Cascia is her go-to Saint for intercession and help. Home includes Carlyn, a very, very goofy Golden Retriever and Lucy, our not-so-little rescue puppy. 
Feature Image Credit: Justice Amoh, unsplash.com/photos/hyYJKOZp2Og