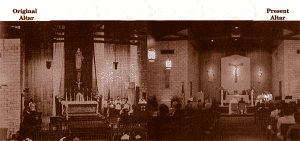 St. Juliana Parish was founded in 1949, and celebrated Sunday Mass in the Carefree Theatre, on the corner of Dixie Highway and Flamingo Drive, until the church could be built. Father Patrick O'Brien was the first Pastor and often referred to the Parish as "St. Carefree."  A large parcel, an acre tract of property, was donated by one of the founding families to build a church, school, convent and rectory between Olive Avenue, Dixie Highway and Pine Terrace. On April 22, 1951, the faithful of St. Juliana Parish joyfully gathered to break ground on the church, convent and school buildings. Previous to the founding of St. Juliana Parish, the Catholics living on the south end of West Palm Beach have to travel to St. Ann in the downtown. The grade school and high school were already overcrowded.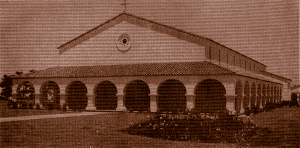 Father Francis McKeown was the second Pastor and he pushed very hard to design the church and school in the Romanesque Style that we are so proud of today. Through his efforts, the church, school, and convent were completed in just eight months. This would be impossible today. The Parish was dedicated and voted in 1951 by Archbishop Hurley of the Diocese of St. Augustine, which at the time, included West Palm Beach. In 1958, we became part of the Diocese of Miami, and since 1984, we have been part of the Diocese of Palm Beach.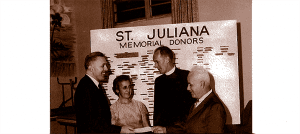 The open Romanesque archways and hallways foretold the welcome that St. Juliana Parish would afford to so many newcomers over the years. From the "old-timers" who participated in the dedication of St. Juliana Church on December 8, 1951, to the first waves of Cuban exiles fleeing Communism in the early 1960's, to the many immigrants from every part of Latin America who came to the parish starting in the later 1980's, to the many young families who have recently moved into of our neighborhoods, St. Juliana's has always been "home." Furthermore, St. Juliana School has helped generations of children grow into good citizens and good Christians.
On January 16, 2005, Most Reverend Gerald M. Barbarito, Bishop of Palm Beach, rededicated St. Juliana Church in a beautiful liturgy. We pray that in the coming years, the same energy and welcome that have characterized this community from its beginnings will continue to mark the life of our parish.
Enjoy the 25th Anniversary booklet:   St. Juliana 25th Anniversary Booklet