This is our Blessed Team
Our Priests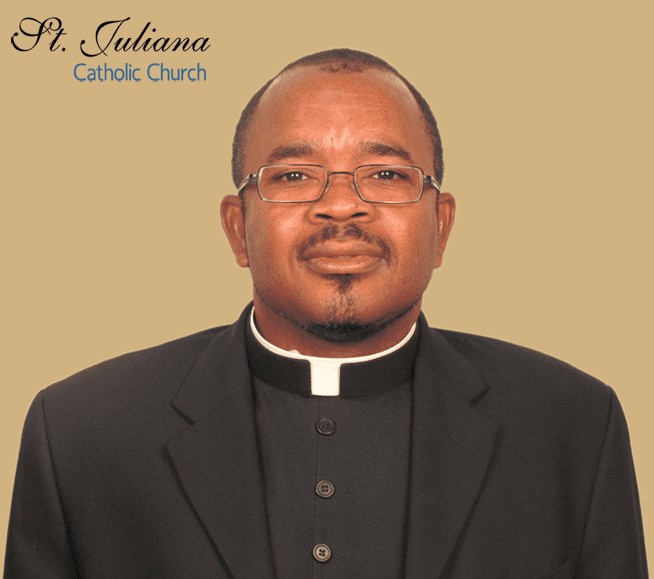 Rev. Ducasse François
Pastor
I was born and raised in Jacmel, Haiti. I am the youngest of six siblings. After High School I joined the Secular Institute Voluntas Dei for religious life and attended the Major Seminary Notre Dame in Haiti and graduated with a MA in Theology. I was ordained to the priesthood on September 26th, 1998. I spent 4 years in the Dominican Republic where I learned Spanish and worked as Parish priest in different diocese.
I moved to Florida in 2000 and since then I joined the Diocese of to Palm Beach and take upon several assignments. I was assigned as parochial vicar to Sacred Heart in Lake Worth from 2000 to 2003, St Anastasia in Ft Pierce from 2003 to 2008, and, during this period of time I have also served as administrator of Notre Dame Mission and Chaplain of John Carroll High School.
From 2008 to 2010 I was assigned as parochial vicar to Holy Name of Jesus parish in West Palm Beach. And from 2010 to now I served at St Sebastian Catholic Church as a parochial vicar in Sebastian and Administrator of Our Lady of Guadalupe Mission in Fellsmere. With great enthusiasm I have accompanied the people on their spiritual journey while serving on those assignments I did manage my time to attend Creighton University in Omaha, Nebraska where I graduated in 2011 with a MA on the discipline of Christian Spirituality. I am blessed with a gift of languages, I speak, Creole, French, Spanish and English. I love music, singing, reading and sports.
frducasse@stjulianacatholicchurch.com
Rev. J. Scott Adams
Parochial Vicar
I was ordained to the priesthood on May 7th, 2016.  I am a graduate of St. Vincent de Paul Regional Seminary (MDiv) and a graduate of St. John Vianney College Seminary (B.S. Philosophy).  Before entering seminary, I earned a Bachelor's Degree in Accounting from Messiah College in Grantham, PA and a Master's in Business Administration from Florida Atlantic University in Boca Raton, FL.  I worked for over 15 years in accounting: public accounting, governmental accounting and in the private sector as Controller of hotels.
I was born in Philadelphia, PA and was raised across the river in Cherry Hill, NJ.  I moved to Florida over 25 years ago.  My parents live in Port Orange, FL and I have a brother and sister who still live in NJ.  I am an active person.  My interests include golf, tennis, fishing, and surfing.  I am an avid reader and I like to spend time at the beach.
I am a convert to the Catholic Church having been raised in the Baptist, and later, Presbyterian faith.  I was drawn to the Church, particularly, by the sacramental life of our Catholic faith.  And I was also drawn by the extensive intellectual depths our Church has to offer:  through the Church Father's; the lives and writings of the Saints; through the Councils, constitutions, decrees, encyclicals, and apostolic exhortations; through the Catechism of the Catholic Church; not to mention the extensive list of writings by our theologians, and first among all of these, our Sacred Scriptures.
I have been assigned to the Cathedral Parish of St. Ignatius of Loyola for the past three (3) years and was also assigned there one year prior as a transitional deacon.
I truly believe that I am following God's plan for my life, and in so doing I have been blessed with a calmness, a peace and a joy that I have not otherwise experienced in my life.
Fui ordenado sacerdote el 7 de mayo de 2016.  Me gradué en el Seminario Regional San Vicente de Paul (MDiv) y me gradué en el Seminario de la Universidad St. John Vianney (Filosofía).  Antes de ingresar al seminario, obtuve una Licenciatura en Contabilidad de Messiah College en Grantham, PA y una Maestría en Administración de Empresas de la Florida Atlantic University en Boca Raton, FL. Trabajé durante más de 15 años en contabilidad: contabilidad pública, contabilidad gubernamental y en el sector privado como Contralor de hoteles.
Nací en Filadelfia, PA, y crecí frente al río en Cherry Hill, Nueva Jersey.  Me mudé a Florida hace más de 25 años.  Mis padres viven en Port Orange, FL y tengo un hermano y una hermana que aún viven en NJ.  Soy una persona activa.  Mis intereses incluyen golf, tenis, pesca y surf.  Soy un ávido lector y me gusta pasar el tiempo en la playa.
Soy un converso a la Iglesia Católica, habiendo sido criado en la Iglesia Bautista, y más tarde, en la Presbiteriana.  Me atrajo la Iglesia, particularmente, por la vida sacramental de nuestra fe católica.  Y también me atrajeron las extensas profundidades intelectuales que nuestra Iglesia tiene para ofrecer: a través los Padre de la Iglesia, la vida y escritos de los santos, los concilios, constituciones, decretos, encíclicas y exhortaciones apostólicas, el Catecismo de la Iglesia Católica, la extensa lista de escritos de nuestros teólogos, y primero entre todos, nuestras Sagradas Escrituras.
Me asignaron a la Parroquia de la Catedral San Ignacio de Loyola durante los últimos tres (3) años y también me asignaron un año antes como diácono de transición.
Realmente creo que estoy siguiendo el plan de Dios para mi vida, y al hacerlo he sido bendecido con una calma, una paz y una alegría que de otra manera no había experimentado en mi vida.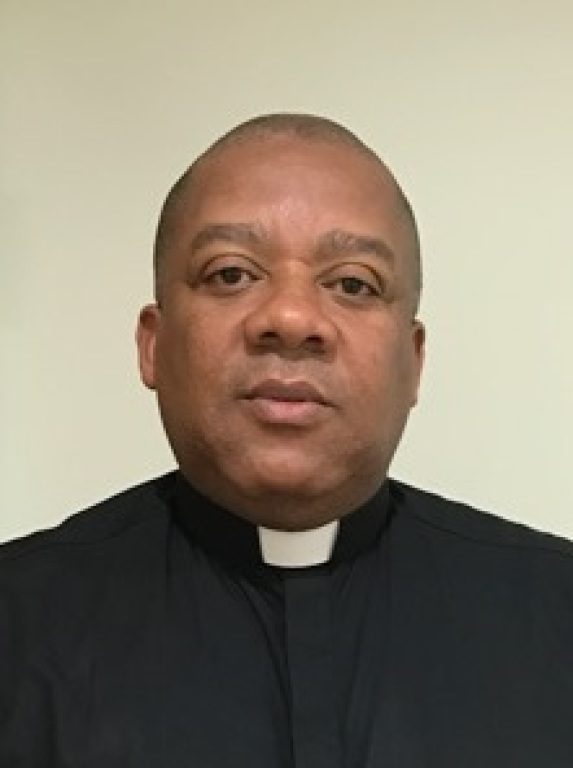 Rev. Pierre-Michel Alabre
Parochial Vicar
Rev. Maximinio Matos Sánchez
Parochial Vicar
Hello!  I am Father Pilar Maximinio Matos Sánchez.  I was born in the Dominican Republic October 12, 1967, in a small town in the eastern part of the country called Miches.  I come from a Christian family of 6 siblings, where the Church was part of our daily life, the rosary was recited in the morning and in the afternoon, and participation in the Mass was very frequent.
Seminary
At age 19, responding to the call I felt the Lord was making, I decided to give my life in a total way, that is how I started my studies in 1987, entering the Minor Seminary belonging to a group of Priests called Instituto Secular Voluntas DEI , where I spent a year and to which I currently belong.  From there I went to the Pontifical Seminary of St. Thomas Aquinas, where I obtained the title of Bachelor of Philosophy (1988/1992) by the Pontificia Universidad Católica Madre y Maestra, and a Bachelor's Degree in Religious Sciences, by the Pontifical Seminary Santo Tomás de Aquino (1992/1996).
Ordained to the priesthood on 06/12/1996 in my native parish, San Antonio de Padua, Miches.
Studies carried out after my ordination: Degree in Psychology from the Pontificia Universidad Católica Madre y Maestra 2009/2012; specialization in Forensic Psychology by the same University in 2013 and Masters in Marriage and Family, by the Lateran University of Spain 2014-2017, for this I have to present the thesis still.
I am a priest for 21 years and I came to Santa Juliana Parish moved by the mission of the Lord.  I want to be with you to learn from you and accompany you in whatever is necessary so that together we can live the will of God.
¡Hola!  Soy el Padre Pilar Maximinio Matos Sánchez.  Nací en la República Dominicana el 12 de octubre de 1967, en un pequeño pueblo de la zona Este del país llamado Miches.  Vengo de una familia cristiana de 6 hermanos, donde la Iglesia era parte de nuestro diario vivir, se rezaba el rosario en la mañana y en la tarde, y la participación en la Misa era muy frecuente.
Seminario
A los 19 años, respondiendo a la llamada que sentía me estaba haciendo el Señor, decidí entregarle mi vida de una manera total, es así como inicio mis estudios en el 1987 entrando al Seminario Menor perteneciente a un grupo de Sacerdotes llamado Instituto Secular Voluntas DEI, donde pasé un año y al cual pertenezco actualmente.  De ahí pasé al Seminario Pontificio Santo Tomás de Aquino, donde obtuve el título de Licenciado en Filosofía (1988/1992) por la Pontificia Universidad Católica Madre y Maestra, y el Título de Licenciado en Ciencias Religiosas, por el Seminario Pontificio Santo Tomás de Aquino (1992/1996).
Ordenado sacerdote el 06/12 de 1996 en mi parroquia natal, San Antonio de Padua, de Miches.
Estudios realizados después de mi ordenación: Licenciatura en Psicología por la Pontificia Universidad Católica Madre y Maestra 2009/2012; especialidad en Psicología Forense por la misma Universidad en el 2013 y Maestría en Matrimonio y Familia, por la Universidad Lateranense de España 2014-2017, para esta tengo que presentar la tesis todavía.
Tengo 21 años de Sacerdote y vine a la Parroquia Santa Juliana movido por la misión del Señor.  Quiero estar con ustedes para aprender de ustedes y acompañarles en lo que sea necesario para que juntos podamos vivir la voluntad de Dios.
frmaximinio@stjulianacatholicchurch.com
Parish Staff
Pastoral Staff