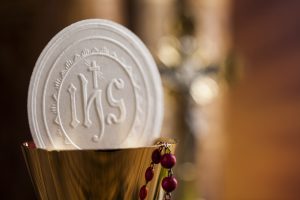 R.C.I.A. or Rite of Christian Initiation for Adults is a process for people who would like to know more about the Roman Catholic faith. Those who would like to receive the Sacraments of Initiation, that is, Baptism, Confirmation and Communion. It is also for those who desire to be received in full communion to the Catholic Church or who would like to convert to the Catholic Church.
Are you interested in learning more about Catholicism? Do you have friends or acquaintances who are questioning what Catholicism is all about? Do you have Catholic family members or friends who have fallen away from the Faith? Invite them to investigate the truth about Catholicism by joining the RCIA group here at St. Juliana. Our group meets once a week for the length of the school year, beginning in late august. Practicing Catholics are encouraged to join as well – you are guaranteed to learn things about the Church you never knew! The program is open for adults 18 and over.
Contact the Office of Faith Formation at 561-833-1278 for more information.